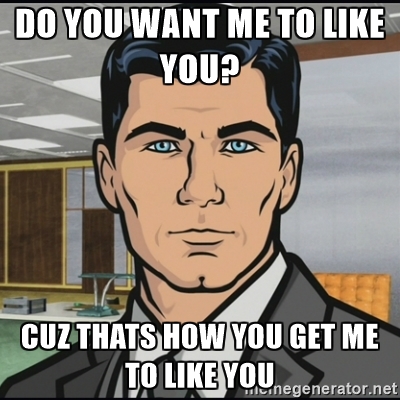 Did you know that 65% of new business comes from referrals, according to 22Touch.com? Additionally, customers that are referred produce a 16% higher lifetime value than customers produced through other channels.
Many businesses rely on word of mouth and referrals to keep their business afloat month to month.
How many of those businesses are sending their customers out the door, just hoping that they recommend their services to someone that they know?
Too many.
I'm not saying that it doesn't happen; it's a pretty common occurrence. But you shouldn't just be hoping that they spread the word. You should be providing incentive for them to do so.
By actively encouraging your current customers and clients to tell others about your business, you'll see huge gains in referrals.   
But that is often easier said than done. The first step is being willing to engage with your customers.


Customers that have received a good service from a company are usually very happy to spread the word about that service. It's natural to want to help your friends and business associates.
People also love to support small businesses in their local area.
When you send a customer off without asking them to spread the word, the idea might not even cross their mind.
They also might not think that you need the business.
By asking for referrals you are making it clear that you do need the business and can make customers feel special just for being asked.
So when is the best time to ask?
The best time to ask for a referral is when you are in the middle of delivering a stellar service. Ask after you have first "wowed" them with your speed, professionalism or quality of work.
Don't be afraid to ask for referrals or be a little "salesy" in the process – but don't be aggressive.

Providing some sort of incentive to refer your services to others can really improve your success rate.
Many companies choose to use referral programs to encourage others to spread the word. They have built-in incentives and systems that can help to make the referral process simple and straightforward.
You can also choose to keep things simple.
Many companies choose to offer straightforward incentives for referrals. Sometimes something as simple as a discount on future services for each referral can be enough to kick things into high gear.
Some of the most common ways that companies encourage referrals include;
Discounts.

Simple and straightforward. When a client brings new clients your way – you can offer them a discount on future services.

Point Systems.

In referral and loyalty programs, customers can earn a certain number of points for certain actions. They could earn points for referring a new client, making a purchase or filling out a survey. Then, those points can be redeemed for products or discounts at a future date.
But in my experience, sometimes the simplest, easiest, and most effective way to get referrals is simply to ask. It's amazing how much people are willing to help if you're just willing to ask.

The actual act of referring customers requires that your clients take time out of their busy day to phone interested parties and let them know about your services.
Some will be willing to do this – but you'll be losing a lot of referrals from those that aren't willing to put in the time.
So make it as easy to refer your business as possible.
There is no better medium for this than the web.
Some of the simple ways that you can optimize your web presence to maximize referrals include;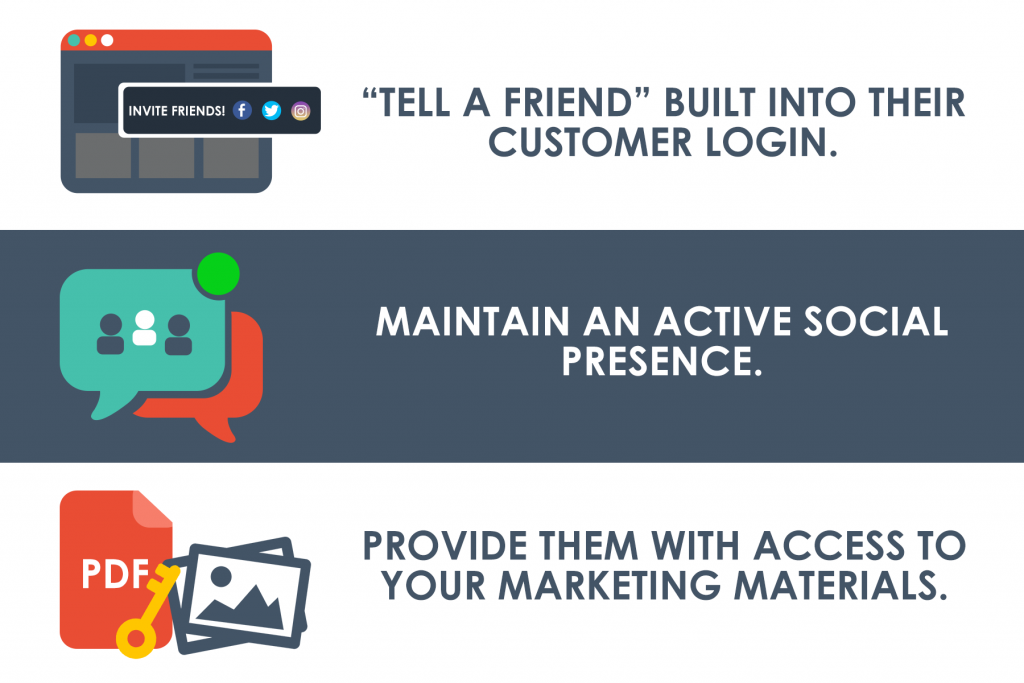 "Tell a Friend" built into their customer login.

All of us have seen it. You sign up for a service and then are prompted to invite friends through social networks, email platforms and other locations. These systems exist because they work! You can also combine a system like this with some sort of incentive to greatly improve your referral rates.

Maintain an active social presence.

Many word-of-mouth referrals today come from social networks. By maintaining an active presence on social networks you are increasing the odds of interacting with previous customers on a regular basis, and increasing the chances that those interactions are seen by other interested parties.

Provide them with access to your marketing materials.

There is no one better at selling your business to a new customer than you. Make brochures, white papers and other materials available to your customers for referral purposes. Also make PDF's available on your website that can be easily emailed to prospective clients.
Your goal should be to take all of the usual grunt-work out of spreading the word about your business. Be creative in the ways in which you encourage your customers to share their experience with your business.

Sometimes a simple "thank you" goes even further than any incentive that you could provide. Make sure that you thank every customer that works with you, whether or not they refer a customer to your business.
The more personal you make it, the better.
Don't be afraid to pick up that phone and say thank you. Send thank you cards. Let them know how thankful you are for their business, and let them know what a positive effect a recommendation could have on your business.
People love to be appreciated. You certainly appreciate their efforts, so don't hesitate in letting them know. They'll be much more likely to deliver the favour again in the future as well.
Your Challenge
Engaging your customers and fostering referrals is easier than you think. It starts with being willing to ask for referrals and being confident in the product or service that you provide.
Start by implementing changes to your referral strategy slowly. Ask customers that have had a good experience to spread the word. Maybe let them know that you'd be happy to provide them with a discount in exchange for their efforts.
Once you've made some basic changes, then you can get into contact with me, and we can go over how we can expand your referral strategy even further – without being pushy or aggressive.